Hello,
From what I am led to understand Nike have been working on this product for two years and is not yet on sale in the UK, expect a rush of sales. It is a rubber wristband that monitors your every move and how active you've been throughout the day. Can Nike do what the Jawbone UP didn't?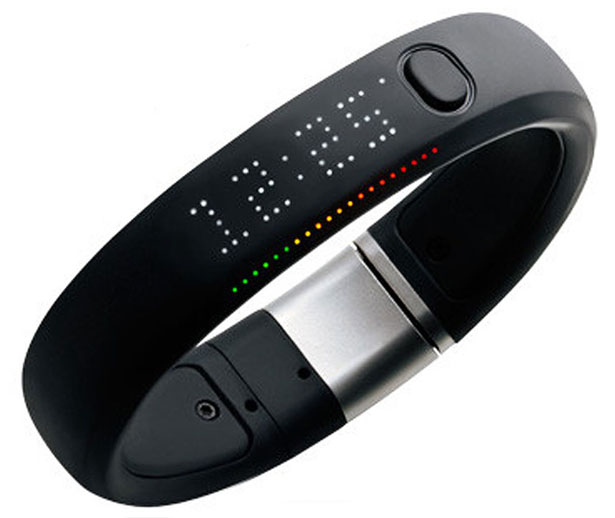 Early reviews and demo's show that it fixes all of the Jawbone UP's problems, I'd really like to get my hands on the item to have a go for myself and create a video podcast for everyone to see. The LED display on the band itself show your progress on a fitness index called Nike Fuel. The Wristband has a 3-axis accelerometer and the algorithms in the band work to classify every type of movement you make, from walking up stairs, running, or even any extreme sport. Every activity that can be done gets a multiplier, i.e playing an hour of  football will give you more Fuel points. Likewise, if you take the stairs versus the elevator, you get more Fuel.
The Jawbone UP didn't have real-time feedback where as the Nike+ FuelBand does and does it with a  LED readout on the band showing just how much Fuel you've earned and how close you are to your daily goal. (It also shows the time and how many calories you've burned). Need a bit more in depth analysis no worries your iPhone app is always synched with your band, showing a chart of your activity levels throughout the day in Nike+ easy on the eye and simple format.
"It's about tiny behaviour changes," says Ricky Engelberg, Nike+'s director of user experience. "Over a week and a month and a year, it adds up."
It does have it's drawbacks, unless the arms are involved in the movement then it can't really track the activity and is not water poof enough to swim with. Nike however highlight that the Fuel Band is actually only one part in their plan to change Nike+, with every Nike+ product being able to spit out fuel scores that can be tracked online.
I'd love to get my hands on this item to try it out because if it's as good as the Nike+ SportBand was, then with the added features it should be great.
Would I buy the Nike+ FuelBand? Yes, it's a shame it didn't track sleep patterns but you can't have everything can you? Maybe this will be added in the new overhaul of the Nike+ equipment?
I'm not going to review the Nike+ FuelBand star wise as till I get hold of it I can't give a detailed review.
Cheers,