Hi folks,
I came across quite an inspiring story while on Twitter a few weeks ago and I'd like to share it with you today. Meet Graham Smith, he's from Whickham in the North East of England and he loves running. He recently became a running coach through the help of a local charity called The Tony Blair Sports Foundation(TBSF). If you'd like more information on this foundation just click the bold red copy you've just read. Graham now wants to help TBSF raise more funds so they can increase the number of sports coaches in the North East. This will result in getting more kids active and them having a healthier and happier life. So Graham's challenge is to run 2012 miles in the year 2012 and raise £2012 for the TBSF. One word, amazing.
The tweet I read a few weeks ago was about a 24 hour treadmill challenge in Durham. I thought to myself, I live in Durham! So a couple of tweets later and I've booked a running slot for Friday the 1st of June at 18:30pm until 19:00pm. The challenge takes place at Northumbrian Water at Pity Me, Durham and will run from 10:00am on Friday the 1st of June until 10:00am on Saturday the 2nd of June. I urge everyone to get in touch in Graham and show your support. Even if you only have a spare half hour in your lunch break like me, get yourself along and help out. If you can't make it, please re-tweet and like this page to help spread the word. Thank-you.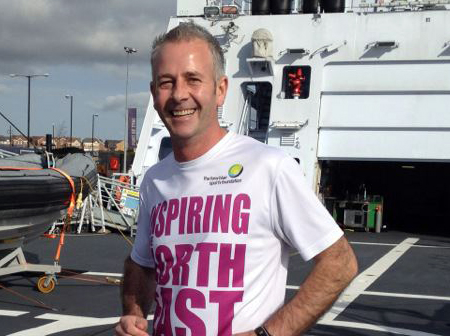 When I agreed to help with this website, the main objective was to help others. Read the statement at the top of this page, Everything about fitness training and exercise tips. Eat right and live healthy with 4Ever Fitness. That statement is correct and the articles we write are there to help others. I guess Graham and I have something in common and that's why I was keen to help spread the word about his story.
If you'd like to know more about Graham's story, you can follow his blog at: http://2012milesin2012graham.wordpress.com or via Twitter @whickhamrunning. If you'd like to support Graham by making a donation, please visit his JustGiving page here: www.justgiving.com/graham-smith19.
To quote Tesco, every little helps and it really does. Thanks for reading,