Hi everyone,
I am delight to be able to write this review on the TomTom Multi-Sports Cardio Watch. I have been using this watch now for the last month and can honestly say I am very impressed.
The big selling point for me is that this watch will measure your heart rate without the need for an additional heart rate strap on the chest, well there is actually more selling points too so read on to delve deeper into it's specs and why it's a winner!
There are lots of GPS running watches out there so the first to know is what to look for and this is going to be different for everyone due to needs, one thing to really consider is that this kind of technology is developing at a very quick pace with new watches promising more and more. Sometimes I wonder if some of the watches cram to much in and over complicate things to much for beginner or elite.
 Things to look for on a GPS training watch (must haves)
Easy screen feedback
Reliable GPS
Training zones
Pace per mile, splits etc
The information gathered is present in a easy to view fashion (on an app, can you download the information)
Works in water
Can be used for Multisports
Battery life and being able to recharge easily
First off I think the TomTom looks great on the wrist and this is because it has gone through some changes from the last model. It comes in red on black or red on white models with the latter being my favorite but don't worry you can change the straps to you liking! Before you start training, it's a good idea to charge your watch, download any software updates and download QuickGPSfix so that the watch can get a GPS fix on your location. This is done but plugging into your computer MAC in my case and following the guide.
You can see in the images and the video above that the straps are comfortable  flexible rubber designed to hold the GPS module and watch display in it's place. I love the three-pronged clasp and a holed design so it's ready to go on any wrist and your not cutting bits of the strap off with a knife like some products, this new design makes it very secure and safe on the wrist.
Built in Heart Rate Monitor
The all new TomTom Multisport Cardio has a built-in Heart Rate Monitor in the base of the watch to accurately measure heart rate, eliminating the need for a separate chest strap. Runners can set heart rate zones and vary the intensity of training depending on the goal they want to reach. I was skeptical at first about this technology as I have always had fitness watches with heart straps so wanted to see how it compared and I was not disappointed! When compare to other leading brands the heart rate reading was quicker to get up on the watch screen and required no syncing to straps etc and best of all no contact pads to wet as you would with a chest-based sensor. The system reads heart rate optically, i.e. the two green LED lights can detect fluctuations in blood flow between them and calculate how fast the blood is being pumped (see the picture below).
During swimming the watch still performed accurately and I was able to get vital feedback during my sessions, and for me this is what sets the difference between this product and the other products with heart rate straps.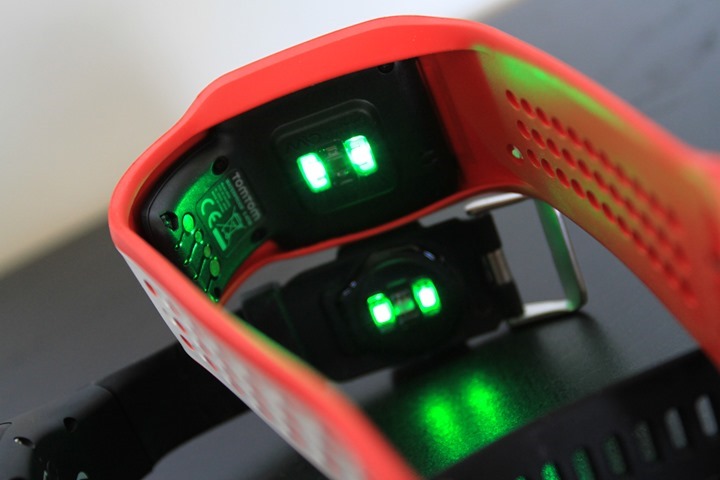 So why all the fuss about heart rate during training?
Heart rate monitoring is the single most accurate means to understand how your body is responding to exercise. Once you have worked out your Fat burning zone or your maximum performance and speed. Heart rate based training can help you get the most out of your training and help you achieve your goals more quickly as you are getting direct feedback from the watch and are able to adjust your training at a glance!
Now all of this can be overwhelming for a beginner but a great function of the TomTom Multisport Cardio watch allows you select a zone to match your training goal! Handy or what! now you will always know whether you need to speed up or slow down or maintain your current performance.
You can train in one of five intensity zones:
5. Sprint: All out: mostly used as part of interval training
4. Speed: High tempo: training improving your speed and fitness
3. Endure: Moderate to High tempo: improving your lung and heart capacity
2. Fat Burn: Moderate tempo: great for weight loss
1. Easy: Easy tempo: mostly used for warm-up and cool down
Heart rate zones are different and are related to your age this is how the watch estimates your heart rate zones is once again great for beginners to get up and started. One thing I really like is that fact that you can adjust your zones via the TomTom MySports so is great for athletes or anyone working to the detail. This could be an option for college students in the sports lab to record vital information during testing.
Heart rate information during your activities:
During my use of the watch I found that the information or your heart rate can be seen as a number or seen as a zone so was really easy to read and put any changes into action. I was able to  access the Cardio data screens at any time by simply pressing right during an activity. By pressing right the watch quickly and easily scrolled through several screens of extra information which was perfect for my training. You are also alerted when you fall outside of your training  parameters by a vibration on the wrist and a visual warning symbol appears so you know what to correct in a glance.

GPS

Ok so I guess we have all had a sat nav at some point or used one and it's put up the wrong route! The built-in GPS receiver provides real-time (it's was very fast during my usage) running information at a glance while tracking your distance, time, pace, speed and calories burnt as you run, I have seen reviews asking for this to be faster but I have had no issue with this at all. After your training session you can view your route and other key stats on TomTom MySports and other popular sites so that you can continue to monitor your progress. You can upload activities automatically with the TomTom MySports app. The Multi-Sport Cardio knows when a session has been performed and will then look for your previously paired device to send the data to.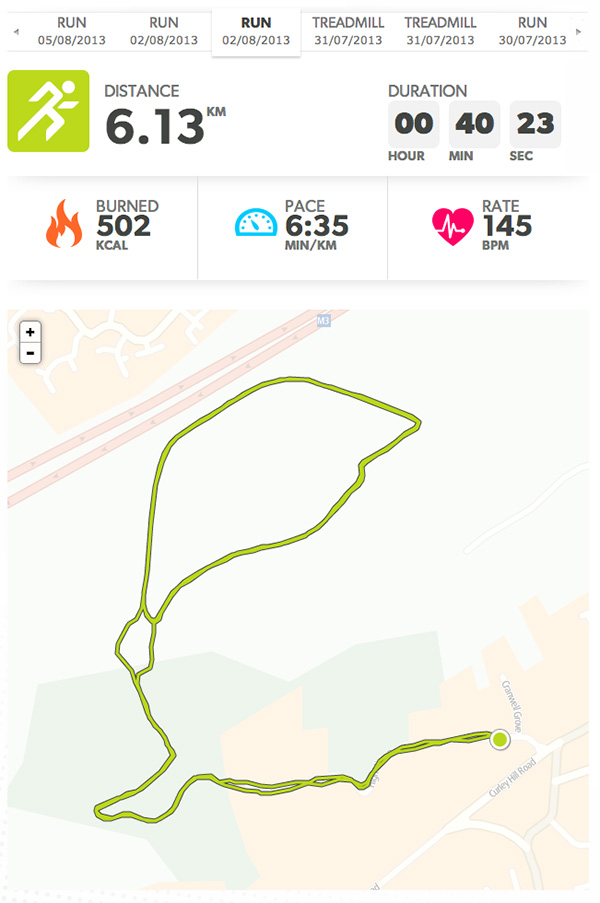 Which bring me onto the Mysports App and website!
The TomTom MySports mobile app automatically uploads key performance information, including distance, time and calories, without connecting to a computer. Key features include:
Upload and view your activities on your MySports account automatically after your training
Automatic upload of activity to other preferred platforms – MapMyFitness and RunKeeper
Automatically update your watch's QuickGPSFixThe free app is available on Bluetooth 4 compatible iPhones (4S+) and iPads (3+ and mini) with iOS 6.0 and above. An Android version of the TomTom MySports Mobile App is also available as of August, 2014 and is supported on the following Bluetooth Smart enabled phones: Samsung (S5, S4, S3, Galaxy Note 3), Sony Xperia Z1 (Android 4.4.4 required), HTC (One (M7), One Mini). More models will be added in the future.
You can see just how easy the app is to use with the information it give you and the same with the website! 10 out of 10 for useability and presenting the data.
TomTom have even allowed multi-platform compatibility to track, analyse and share your stats on. So popular apps and running sites link in very nicely.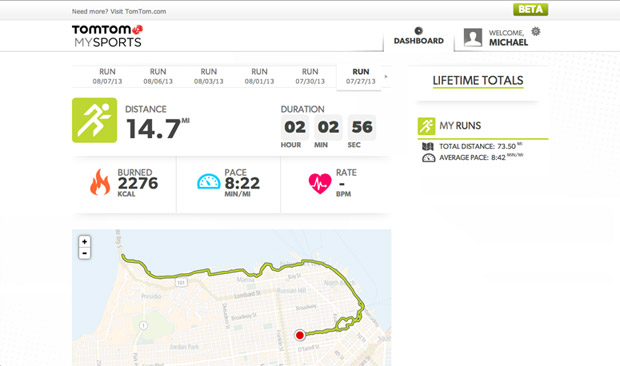 Last but not least the battery and charging! When the battery is fully charged, you should be able to get 10 hours of activities that need GPS reception out of it, such as running and cycling. The battery is used more quickly if you use the back light on your watch frequently or all the time all i did was use the following tips and I had no problems what so ever!
Turn off night mode and touch the screen to turn on the back light only when you need it.
Turn off sensors that you are not using. Your watch keeps searching for sensors even if you are not using a sensor ( so don't make that mistake)
I'm going to give this watch out 10/10 star as it is easy to read, quick to setup and understand, super reliable, there is something for everyone from beginner to elite! Love the fact that it links in with other app and think this is a real bonus.Battery life is great and there's no chest strap to mess about with trying to get to hook up or either stay in one place.
I can not fault this product and it is worth the £249.99 price tag.
Thanks and stay healthy,