Hi everyone,
I am over the moon with being able to present this interview to you all from the lovely Mirella Clark WBFF PRO!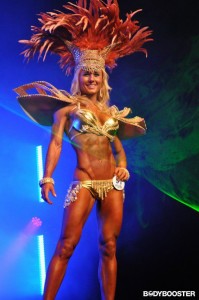 Introduction
Mirella believes that health and fitness is a lifestyle choice. She is a highly qualified strength and conditioning coach and a specialized Bio Signature practitioner based in the UAE with clients around the globe. Female strength and fat loss is a passion for Mirella, she not only enjoys pushing clients beyond their limits, but the ultimate goal is to educate her clients, so that achieving better body composition becomes a lifestyle choice for the future, not just a 'fad diet' or an unsustainable mission to get a 'bikini body.'
Q1)  Can you tell the 4everfitness readers a little more about what you do?
I work as a Personal Trainer, currently for a VIP client between Abu Dhabi and London; as well as online coaching independently and more recently with 'Body Type Nutrition'. I recently won 1st place and my Pro Card in WBFF 'Diva Fitness' in Denmark. I am now 'offseason' and will soon be dialling in to work towards The Worlds competition in Vegas in August.
Q2) some of our readers are at college studying to be a personal trainer can you explain a typical day in your life as an international trainer?
I get up pretty early most days, train clients 1-2-1 in various locations, and then work with my online clients. My free-time throughout each day is spent reading, studying, researching, training and eating! Working as a Personal Trainer is my ultimate passion…helping people to achieve their goals, eat better, sleep better, feel better, and to educate, inspire and motivate is the reason why I decided to change career in my late twenties. It is hugely fulfilling.
Q3) What is it like competing and winning in WBFF?
It was such an amazing experience. I prepped for 13 weeks and at times it was extremely hard to stay motivated, particularly on days when I was tired and grumpy. But I kept my eyes on the prize the whole way through. If I set my mind to something, I WILL achieve it, and no matter what, I make sure I stay focused until I get to the end goal. The event was a huge buzz, and great fun to share with my Diva Sisters (my friends Juliana and Susie who also competed). The backstage atmosphere was fun and friendly. Everyone was having a great time and it was like being part of a show, rather than a competition, which made it so much less daunting. I was extremely nervous going out on stage but I was determined to put on my best performance after all the hard work I had put in leading up to the show. Thankfully it paid off. I still can't quite believe it! I'm really excited about The Worlds!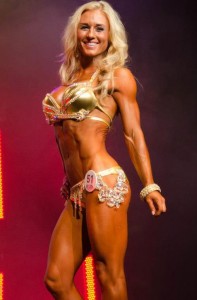 Q4) how hard was your prep for your 1st show?
It was an emotional rollercoaster! I had good days and bad days but I really enjoyed the experience, having a focus for my training, the discipline that the 'diet' brings, as well as the overall challenge. There are days when I just didn't feel like training, and times when I craved foods I wasn't allowed, fruit and chocolate milkshakes! But like I said before, if I set my mind to something… It was important for me to get up on that stage knowing that i'd given 110%, and there was nothing more I could have done to improve.

Q5) Explain a typical day in your diet?
I'm still trying to work out how to eat "normally" after following such a strict 'comp prep' diet for 13 weeks leading up to the show. I like to start the day off well…usually steak with nuts, and brown rice flakes porridge with almond milk and blueberries, coffee with coconut oil, for instance. I eat every 2-3 hours, usually meat/fish with vegetables and clean carbs such as quinoa or sweet potato. I like to snack on rice cakes with hazelnut butter and strawberries; or avocado with prawns.

Q6) Whats the biggest mistake personal trainers make with clients?
I see a lot of trainers, particularly in the Middle East, loading their clients up with weights that they just can't lift. Not only is it pointless because the client can't lift it on their own, but it's unsafe. Don't compromise technique for your ego! Also a lot of the same thing…smashing your clients metabolically into the ground each session is not going to get them results, or the opposite, not training them hard enough…it's a double-edged sword. For many trainers who work in commercial gyms, it often becomes more about quantity (of sessions) than quality.

Q7) what's been the biggest eye opener in the health and fitness industry for you in the last few years?
How much you actually learn after you have achieved your 'Personal Trainer status'. It is so easy to become a trainer nowadays, and what you learn is very basic and minimal in the grand scheme of things, hence why there are so many poor trainers out there. Its like passing your driving test, you don't really learn until you get out there and see the world. It's important to read everything, talk to everyone and learn as much as you can on a daily basis. Research and corresponding opinion continuously evolves…what was once good for us becomes bad and the becomes good again.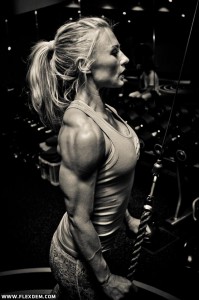 Q8)  What courses would you recommend trainers to go on?
As many as you can. There is no right or wrong course to go on but it's important to keep an open mind as it can be easy to get sucked into one 'method'. Poliquin BioSignature was extremely interesting and a tool I continue to use. As well as PICP strength & conditioning. Precision Nutrition is fantastic and something I am just starting with. Ben Greenfield's Superhuman Coach course is also worth investing in.

Q9) Would you recommend any books  for our readers to invest in?
Wheat Belly by Dr Williams Davis; Achieving Victory over a Toxic World by Dr Mark Schauss; Will It Make The Boat Go Faster by Harriet Beveridge.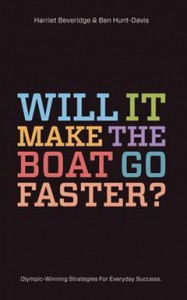 Q10) Finally what would be your top 4 tips for anyone wanting to make improvements to their health & wellbeing?
1) Cut out gluten.
2) Make sure you get all macronutrients…carbs, proteins and fats into your diet.
3) Get enough sleep.
4) Find a balance that works for you in terms of diet and exercise…not one size fits all!
Thanks,