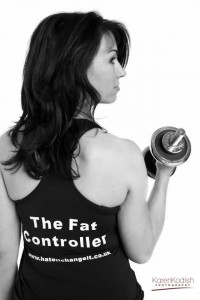 The 4Ever Fitness team is really pleased to be able to interview Jill and provide our readers with some valuable input for her! so here's a little bit on Jill first.
Jill is waging a war against #beigedeadfood and is am on a mission to create an army of fat controllers who are free from the fat race! Help her wage her war and spread the message of fat controlling – no more diets, low calorie food, fad diets, points, fasting. You can be a #fatcontroller like Jill and NEVER look at food the same again!
Jill
…hasn't always been fit and strong
…hasn't always been happy with her weight and appearance
…used to hate exercise and would do anything to avoid it
It was Jill's journey from fat to fit that inspired her to help others avoid the diet demons. In fact Jill firmly believes that you should ditch #beigedeadfood and the scales forever.  You do not need to eat less and exercise more. Jill's passion for her subject means she is always using the latest scientific research and education to bring the latest methods and information to her clients.
This passion led Jill to work with some of the leading experts in the field of hormonal exercise and fat loss, such as Dr. Jade Teta from the Metabolic Effect. Countless courses and books later Jill is firmly placed as the local fat loss expert earning her title of 'The Fat Controller'. She is also the pioneer of fat controlling cookery, creator of Fitstop, the short, effective, fat-burning workout DVD and the  creator of 'Ignite', the unique online educational fat-loss programme for women and male with global success.
Oh and if that is not enough Jill has make to the FitPro Semi Final of Fitness Professional of the year, voting has currently closed so fingers crossed Jill has made it into the final!
Q1)  In your experience of training people, what is the most important aspect anyone should consider when trying regaining their health?
Getting their mindset right first! If they don't know what reasons they are doing it for then it won't happen.  It needs to be really specific and aligned to their emotions about their specific goals. Just wanting to shape up is not enough. There has to be deeper, more purposeful reasons that will motivate them to make the changes.
Q2) Whats the best experience you have had in the health & fitness industry?
The best experiences always comes from learning. Every time I go on a new course I can't wait to share the information out.  Meeting and working with one of my fitness heroes twice, Dr Jade Teta has to be pretty much the best experience yet!
Q3) If you were Prime Minister of the UK what one thing would you change so that more people could get healthier?
If I were PM I would tax junk food and re-invest the money into educating and subsidizing fruit and vegetables.
Q4) How important is nutrition for people wanting to regain their health?
Nutrition after mindset is key. Exercise matters least in my opinion. Whilst it's important, eating right is a ticket to long term health and happiness. But if the mind isn't willing then none of it will matter anyway.
Q5) Whats your favourite meal to cook and why?
Just about anything with eggs! They are so versatile and healthy.  You can't beat any kind of omelette loaded with vegetables and served with a huge salad!
Q6) What is your favourite exercise and why?
My favourite type of training has always been weights. If I had to choose my favourite it would be dead lifts because I can feel every muscle working!
Q7) What is your opinion of supplements in a training plan?
I think there is a place for supplements only when all the big rocks are in place.  There is a tendency in this industry to get over excited by new products when really there are still things in our diets we could easily address throu

gh food, sleep and rest.
Q8) What one piece of training equipment could you not live with out and why?
Dumbbells!  The reason is because they are so versatile and transportable. You can also do a lot with just one. You can do a great HIIT session with them and train the whole body too.
Q9) Would you recommend any books for our readers to invest in?
I have so many books! A good one for learning about hormonal fat loss and rest based training is Metabolic Effect Diet.  For training the mind to learn new habits I love Chip and Dan Heath Switch.
Q10)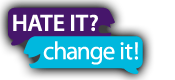 Finally what would be your top 4 tips for anyone wanting to make improvements to their health & wellbeing?
Get your sleep right – aim for 8 hours a night
Get your stress sorted and learn to relax and meditate daily
Get clean eating and loads of vegetables into your diet most of the time, including plenty of water
Ditch toxic relationships and surround yourself with people you want to be like and who inspire you to be better!
We hope you have enjoyed reading this  question and answer article and if you want to know more about Jill check out her website: www.hateitchangeit.co.uk
Thanks,