Features:
Durability:
Weight:
Looks:
Value For Money:
Hi,
I can give a quick overview of the Jawbone UP as I've had one before. The UP is a wristband and smartphone app that tracks your wellness and more specifically your activity levels, your sleep pattern and your meals.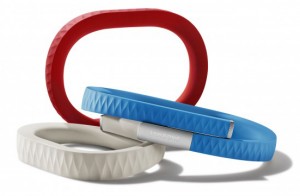 The wristband is of oval shape with a rubberised case so its not like a Pandora bracelet bouncing around. There is an accelerometer built into the product, this is how it tracks you're activity or sleeping; and like the Nike+ equipment can upload the info collected by this time is via a speaker jack. The software package was meant to be the selling part of the product but is a major factor in it's failure and why Jawbone have offered customers a full refund and to keep the product! Jawbone are redeveloping the UP and will be relaunching soon sometime I think.
Would I buy this item? I did and if it worked via wireless and the app on the iPhone was made more user friendly as it tracks hours slept, deep vs. light sleep, awake time and overall sleep quality which is an area of interest I have I'd buy it again unless I got hold of the NIke+ FuelBand.
Thanks,