Hi everyone,
The 4Ever Fitness team is really pleased to be able to interview Brooke and provide our readers with some valuable input for her! so here's a little bit on Brooke first.
Brooke Siler spent a decade training under Joseph Pilates' protégée and chosen successor Romana Kryzanowska. She was chosen to sit alongside Romana on the inaugural board of the Pilates Guild and currently sits on the board of the Authentic Pilates Union, a non-profit organization dedicated to preserving the authentic work of Joe Pilates.She opened her award-winning studio, re:AB Pilates, in 1997 and was quickly embraced by Hollywood's A-list. Brooke's Pilates Teacher Training program began in 2005 and has been labeled "The Gold Standard". Brooke is author of the New York Times' best-seller The Pilates Body, The Pilates Body Kit (CD), Your Ultimate Pilates Body Challenge and Element Pilates for Weight Loss (DVD). Brooke has remained at the forefront of the Pilates community for nearly 20 years and remains passionate and authentic in her work. In September 2013 her new book The Women's Health Big Book of Pilates is due to be released.
Q1) Can you tell the 4everfitness readers a little more about pilates please?
Pilates is a system of exercise that combines strength & flexibility with cardio & resistance to create long, lean, powerful bodies. Joseph Pilates, the method's founder, brought Pilates to the US in 1925 where it remained the training secret of dancers, athletes and actresses until its recognition in the early nineties. Pilates is now one of the best known techniques for men and women who are looking to change their bodies from the inside out. Pilates believes that the will controls the body and in that way asks for a high level of concentration and control.
Q2) What success have you seen with your health by doing Pilates?
When practicing Pilates consistently my asthma disappears. Pilates also keeps me alert and my body responsive. And since I have a genetic disorder that compromises my connective tissue I can honestly say that Pilates is the glue that holds me together.

Q3) What success have you seen other people achieve by doing Pilates?
● Tight & Toned Muscles
● Longer, Leaner Physique (especially waistline area)
● Reduced Stress
● Increased energy
● Improved Body Image
● Reduced Anxiety (and Depression)
● Mental Clarity and Focus
● Improved Posture
Q4) Do you think Pilates is more popular in the USA than the UK?
I think in the U.S. Pilates has the celebrity endorsement appeal and that makes everything over here popular.
Q5) Can pregnant women and older people do Pilates?
There is no one who cannot do Pilates. It is completely adaptable to any fitness level and condition. You just need the right equipment and the right teacher!
Q6) Is Pilates any good for males?
100% yes! It was created by a man (Joseph Pilates) for men. In fact women have hijacked Pilates because we recognize the excellence and intelligence of the method! Pilates helps build mobile muscles which is of great benefit to men who are more prone to choose exercise methods that build strength but forsake flexibility.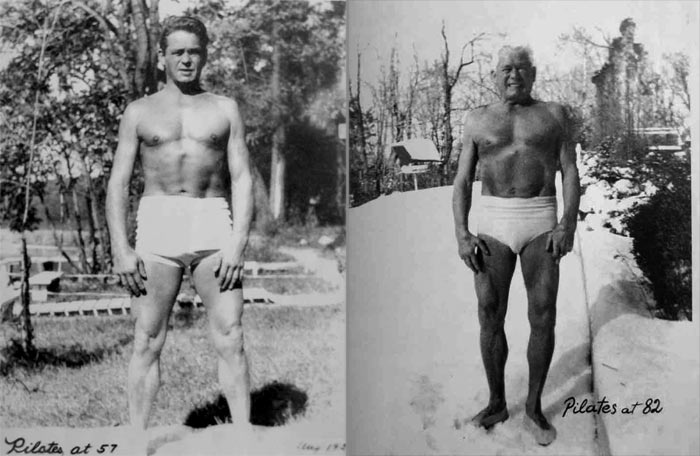 Q7) What benefits would athletes gains from doing Pilates?
Unlike many a myth Pilates itself is actually a very athletic and one of the most satisfyingly challenging workouts around. The most beneficial qualities of Pilates for athletes would be its ability to improve coordination, endurance, muscular balance and propulsion. When practice properly it injury-proofs the body.
Q8) What would be your top recommend pieces of equipment for the 4everfitness reader who want to do Pilates at home?
While Pilates is a system that utilizes 6 main apparatus (the Reformer, The Cadillac, The Mat, The Wunda Chair, The Electric Chair & The Barrels) it was developed by Joseph Pilates on the mat (or floorwork) only. Therefore, no, you do not need any special equipment other than a mat however, there are great Pilates props that can enhance your workout. A Pilates "Magic Circle" or "Tensatoner" are two resistance pieces that add tone and stability to the matwork. (www.Pilates-Gratz.com). I am never without a set of weights (2-3lbs) and there are lots of great Pilates exercises that utilize light weights. Bands and stability balls are not officially Pilates pieces however there's lots of great stuff you can do with them that are "Pilates-Conscious".
Q9) Would you recommend any books on Pilates for our readers to invest in?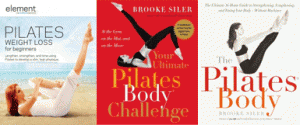 My books, The Pilates Body and Your Ultimate Pilates Body Challenge, contain all the Mat exercises and since their publication I have received an overwhelming number of responses from readers who have changed their bodies. I also have an audio CD kit The Pilates Body Kit and a DVD Element: Pilates for Weight Loss/Beginners – depending on how you learn best any of these resources might help.
In September 2013 my new book The Women's Health Big Book of Pilates is due to be released and in it there are entire chapters of how to create a home studio. (Pre-Order on Amazon)
Q10) Finally what would be your top 4 tips for anyone wanting to make improvements to their health & wellbeing?
1) Know Thyself! Write out your reasons for wanting to improve and name your goals. What will help you achieve those goals? What will impede the process?
2) Take Your Time! Instead of rushing headfirst into an intensive program of change try making small changes more often. A little bit of healthy change every day is better than the all or nothing approach.
3) Find joy in whatever you do. Be curious! Be passionate!
4) Breathe! One of the most over-looked and under-utilized tools to health and well-being is our breathing. Fitness is a means to help the body create the best possible environment for breath to take place.
How to find a teacher:
If you want to change your body make sure that you find a teacher trained in the style most akin to that of Joseph Pilates himself. I have had people remark, after training for years in other genres of Pilates, that until they came to my studio they had never seen such radically improved changes in their bodies. www.ClassicalPilates.net has a directory of teachers who are in the direct lineage of Joe Pilates.
We hope you have enjoyed reading this  question and answer article and if you want to know more about Brooke check out her website: www.reabnyc.com
Thanks,