Hi Everyone,
So we are back with another exclusive interview this time with Annie Foulds who is applying her knowledge of health & fitness across London and the web with Sweaty Betty getting people into the shape of their life's!
1) Can you tell the 4everfitness readers a little more about what you do?
First and foremost I am a Mother of two boys (Jack and Harry), I work as an Advanced Personal Trainer/ Running Coach and have been in the  fitness industry for over 20 years gaining my experience in dance (14 years), athletics (County level) and fitness competitions (Miss Galaxy), I am currently  studying for a BSc in Psychology. Working in this industry has lead to me being an Ambassador for Sweaty Betty and Great Ormond Street Children's Hospital. In my spare time I like to run taking part in Marathons for over 13 years and more recently Ultra Marathons for the last 3 years.
2) Some of our readers are at college studying to be a personal trainer can you explain a typical day in your life as an trainer?
A typical day for me starts very early at 5.30 am. Shower, followed by a quick breakfast of fruit and cereal. Then dress and out of the door by 5.50 am for  my first session at 6am – 7am. I have eight clients a day and l leave 15 – 30 minutes max  travel time between each one, therefore making my day about 14 hours long. Some days are shorter, but generally I sit down at home at 8.30pm.  I don't have a long break for lunch. So I prepare good healthy snacks (nuts and fruit) to eat in between sessions and bottled water. Lunch roughly works out at around 2pm or 3pm.
I am a mother too – so I make sure I have time to collect my son from school at 4.30pm – 6pm Tuesday, Wednesday and Thursdays then I return to work for an evening sessions at 6pm or 7pm.  Mondays and Fridays are fully packed through until home time.  My daily sessions vary from running, kickboxing, Pilates, conditioning and dance sessions. Some days I can have three running sessions back to back. So, I feel very fortunate that my main hobby is running marathons. As my sessions are so varied, I make sure my training bag is packed with new outfits the night before, as I could have up to five changes in one day.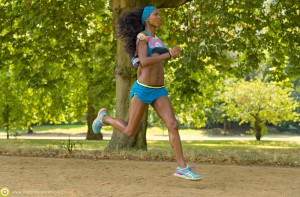 3) How do you manage your own fitness along side working to get others fit?
I manage my own fitness by being very strict on myself. If I have a gap in my day – I will make sure I go off for a run. I try and run at least for an hour about five times during the week, obviously, if I am really short on time, I just do what I can and run harder and faster. Maybe find a hill or add in some stairs.  I always do a long run on Sundays – because I love it and it is a really great  way to make sure I am keeping up my mileage. I think conditioning is very important too – so I try and add my own conditioning sessions in twice a week. I use my own body weight so I do this at home.
4) What is it like competing in an ultramarthon in desert conditions?
To compete in the 100km Del Sahara was an amazing athletic adventure and one of self discovery.  It was extremely challenging both psychologically and physically. Ten days thousands of miles away, four days of constant running in the Sahara. This was my first ever Sahara race, let alone Ultra distance. I was worried about the possibility of falling ill at any time or during the race. As I have never ran for four days consecutively before let alone in the Sahara desert. Carrying my food and supplies during the day and trying to sleep in very cold conditions at night. We even had one night run, which was an amazing experience.
We were all assigned tent numbers, we had six people in each tent.  It was a very international field, but luckily I meant the other Brits and some wonderful guys from Iceland. Our living conditions were very basic. No loos or hot water. So if you dared take off your several layers to wash it was in cold water in the middles of the desert.
We also suffered gales at night – so it was very cold and half the tents were blown away. Running along the sand dunes was an amazing experience. I quickly learned a special technique – running along the side and across the top of the sand dune was the best way to assure you didn't get stuck half way up. Some of the other competitors had been before and I quickly followed their style and pathways. I also picked up tips on how to save my feet from being totally covered in blisters. Great fitting socks, gaiters and light shoes – are a must! The organisations was fantastic and I felt safe the whole time. During the day we ran hard and in the evening we chatted and danced to drums near a burning fire.  This was my schedule.

• Monday
Wake up at 7.30 am, breakfast in the Hotel and transfer to Ksar Ghilane by bus for the opening ceremon
Arrival in the oasis, accommodation in the tent camp equipped with common rest rooms and showers
Lunch at the camp with local food specialities
3.00 pm opening of the shop "merchandising 100 km del Sahara"
5.00 pm designation of race bib numbers and assignment of tent groups, 6 people per tent
Dinner made by the Zitoway staff and overnight stay in the tent of the oasis
• Tuesday, – 1st leg 23km
06:30 am – Wake up and breakfast
Start of walkers at 7.30 am
Start of the 1st leg at 8.30 am
Lunch (open) at the camp start from 1.00 pm, accommodation in the Berber tents, relax in the afternoon
Dinner in the camp and overnight stay
• Wednesday, 2nd and 3rd stage 26km + 9km (night stage)
7.00 am breakfast and baggage delivery
7.30 am start of walkers
8.30 am start of the 2nd leg
Arrival at the camp, open lunch, relax in the afternoon
7.00 pm dinner at the camp
9.00 pm start of the night leg
Overnight at the camp
• Thursday, 4th stage marathon 42km
6.00 am breakfast and baggage delivery
6.30 am start of walkers
7.00 am start of the 1st group
8.00 am start of the 2nd group
9.00 am start of the 3rd group
Arrival at the Hotel****Sahara Douz, end of the race
Lunch by the hotel restaurant
Relax in the afternoon
• Friday
Wake up and breakfast
Transfer to Djerba, lunch at the hotel
Afternoon in relax by the pool
8.00 pm dinner in the hotel and slide show of the race
Overnight in hotel
• Saturday
Wake up and breakfast
Transfer to the Airport of Djerba, on the way free lunch
After lunch transfer in airport for the flight back
5) How hard was your prep this run?
Although, I had been running marathon for 10 years – I wanted to train specifically for the event. Therefore,  I hired an professional coach, Susan Nowell. She had actually won the event – so I knew was in excellent hands.  We became great friends and hope to do many more events together.  The training was concentrated on building strength in my ankles particularly and balance. I already did a lot of ab  and condition work -but I had to make the training more  appropriate. I ran six days a week to the demands I would be putting on myself through in the Sahara. Obviously, I built up to this level of fitness and mentally strength.  15, 7, 19, 40, 20ks = 101km  was the target for my training schedule. I had to  get myself use to the same distances I would be facing in the Sahara.  I also did a lot of cross training on easy days or rest days – heart no higher than 150.  You still work pretty hard at that level – believe me.  The great thing for me was to have Susan there to discuss any difficulties and anxieties before the event via Skype, as Susan was living in Italy at the time. Susan was there to meet me and another athlete from the States in Paris and it was such a relief to have her alongside and at the end of every race.  She is a top physio, so she was there for the aches and pains afterwards and so re-assure that all was fine. My total mileage topped one hundred miles in one week leading up to the event. However, I began to find that the easiest part of the training. It was the hill and leg work that I found the hardest.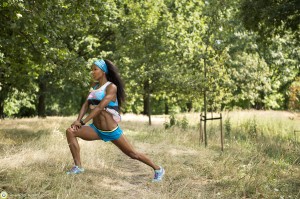 6) Explain a typical day in your diet?
My typical breakfast is half a banana, white Americano and granola with honey and milk at 5:35 AM at about 10:30  at 10:30 I will have a handful of nuts and Apple with another half a banana. About 2 to 3 I will have the salmon salad from Pret, or Salmon and veggies at home. At around 5:30 or it could vary to 8.30 pm  I will have a fish (cod) and  vegetables with juice and I will probably have some walnuts. In between my meals I will drink at least 2 litres of water.
7) What's your favorite type of exercise ?
My favorite type of exercise is to dance, honestly, but I also love to run for about an hour. I am a natural free spirited person – I love getting out and about.
8) What supplements do you use?
I don't use supplementation really. Just  Vitamin C and Zinc. I use gels when I am running a marathon.
9) What's been the biggest eye opener in the health and fitness industry for you in the last few years?
The biggest eye opener for me is literally the increase in  the amount all trainers, and how the industry itself has taken off over the last 10 years  in the UK. I am delighted that sport as become a recognised profession of quality. I have always been into sports which has led me to feel I've been training my whole life because of this. The new things come and go but the fundamentals always remain in industry. For me – wellbeing is important – everyone should be active – it make you feel great!
10) Finally what would be your top 4 tips for anyone wanting to make improvements to their health & wellbeing in 2015?
1. Set small goals
2. Be realistic
3. There are no quick fixes – make changes that are life long
4. Be consistent
Thank you.
Best regards,
Annie Foulds
+44 (0) 7885 140751
http://facebook.com/Foulds007
www.anniefouldspersonaltrainer.com